Chiropractic Care and Physical Therapy: A Safe and Effective Combination
Chiropractic Care and Physical Therapy: A Safe and Effective Combination
Written By Active Health on December 30, 2020
---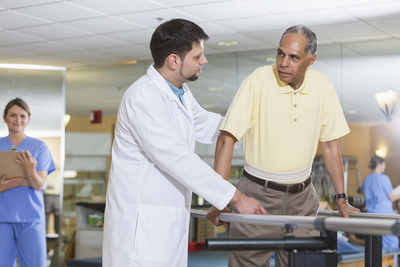 Even though more and more individuals are looking into chiropractic care as part of their regular health routine, many still have minimal knowledge of the many available services.
Approximately 35 million Americans seek out the benefits of chiropractic care each year. It's essential to understand that their services go well beyond traditional spinal manipulation and include services such as physical therapy, massage therapy, regenerative medicine, and so much more.
Chiropractic Care and Physical Therapy: Understanding the Difference
Chiropractic care and physical therapy provide two very unique benefits to patients, and while they may seem similar in nature, they actually focus on two very different things.
Chiropractic Care
Chiropractic care focuses on the body's musculoskeletal structure – primarily the spine. These professionals are concerned with bringing the body's structure into proper alignment because it is believed that when the body's musculoskeletal structure is aligned properly, it enables the body to heal itself from various conditions.
Physical Therapy
Where chiropractic care focuses heavily on the musculoskeletal structure, physical therapy focuses on treating conditions through physical methods, such as stretching and exercise. The goal here is to build up and strengthen the body's muscles to increase the body's natural healing abilities and enhance the musculoskeletal structure further.
Is Combining Chiropractic Care and Physical Therapy Safe?
While chiropractic care and physical therapy may deal with different aspects of the body, they help create a total body solution when combined. However, many are left asking whether chiropractic care and physical therapy are safe alternatives for those suffering from various conditions, such as chronic low back pain, neck pain, etc.
As with any treatment or procedure, some individuals are considered high risk and shouldn't receive physical therapy or chiropractic care. However, any reputable, well educated professional will fully inform you of any concerns they may have when developing your treatment plan.
That said, both chiropractic care and physical therapy are considered extremely safe for most individuals. In fact, those who seek out these non-invasive treatment options have seen excellent results when it comes to:
Reducing pain
Decreasing inflammation
Improving circulation and more
Chiropractic Care and Physical Therapy in North Palm Beach, FL
When it comes down to the safety of any treatment plan, it's essential to take the time to sit down and have a discussion with your care team. Here at Active Health, our team takes the necessary time to get to know you and your health history and fully inform you of all the benefits and risks associated with any treatment options we may suggest.
Have questions about the safety of either chiropractic care or physical therapy? Call our office at (561) 842-2273 to speak with our team or schedule an appointment online today.

Posted In: Chiropractic Physical Therapy