Why is Chiropractic the Right Choice for Neck Pain Treatment?
Why is Chiropractic the Right Choice for Neck Pain Treatment?
Written By Active Health on July 6, 2020
---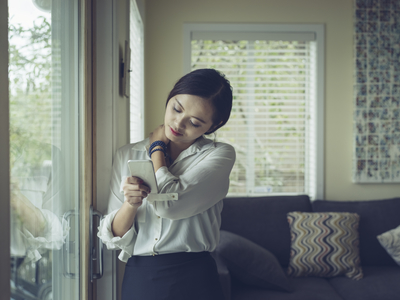 At Active Health Center, we believe strongly in the core values that guide our practice every day-including our commitment to provide a true family environment to every patient.
Your neck is extremely delicate: It's filled with seven small vertebrae along with countless muscles and ligaments that attach to your shoulders, back, and head.
When you don't hold your head or keep your shoulders positioned properly, you neck faces the consequences. It's no surprise that up to 79% of people will suffer from neck pain at least once each year.
Fortunately, chiropractic offers an all-natural text neck pain treatment that targets the problem at its source.
What's Causing Your Neck Pain?
Smart phones have given rise to a condition called text neck.
Your head weighs between ten and twelve pounds. That's already a lot of weight for your delicate cervical spine to manage. With proper posture, the weight is equally distributed down your spine.
However, when you tilt your head down even slightly, this multiplies the force on your neck. Depending on the angle, tilting your head to look at your phone or a book can add up to 60 pounds to your neck!
Over time, this extra weight warps the natural curvature of your neck. It becomes straight or even curves in the opposite direction.
Why is Chiropractic the Best Neck Pain Treatment?
Chiropractors use gentle adjustments, stretching, and exercises to help bring your spine back to its natural position and shape.
Your chiropractic doctor will take x-rays to see the extent of your text neck and offer a personalized treatment solution. By gradually strengthening weak neck muscles and practicing proper posture, you can reduce the pain and prevent it from returning.
Get to the Root of Your Neck Pain in North Palm Beach
The knowledgeable and experienced team of chiropractic doctors and physical therapists at Active Health have helped countless patients in the North Palm Beach community recover from text neck pain. We've seen it all and we have the resources to improve your posture too!
Active Health takes neck pain seriously. Our Multi-Cervical Unit is an innovative piece of technology that helps us identify and treat even the smallest neck injuries – injuries that would otherwise go undetected even by MRIs.
At Active Health Center, we believe in what we do-and in what we can accomplish together with our patients. Call 561-842-2273 Now to Schedule an appointment and start your journey at Active Health in North Palm Beach.

Posted In: Chiropractic Neck Pain Neck Pain Relief