Multiple Cervical Unit (MCU) for Chronic Neck Pain Relief
Multiple Cervical Unit (MCU) for Chronic Neck Pain Relief
Written By Active Health on March 16, 2020
---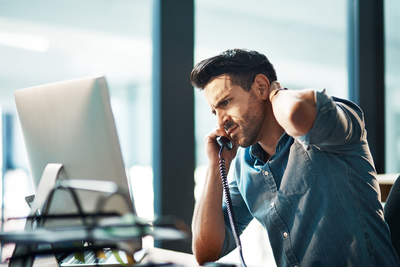 With many of us staring down at our smartphones and gazing into computers for the better part of the day, it's no surprise that the Centers for Disease Control and Prevention (CDC) reports that over 20% of the population has experienced some sort of neck pain in the last 3 months.
Besides poor posture, other common conditions that may cause neck pain include neck strain, tension headaches, whiplash injury, herniated discs, pinched nerves, and spinal stenosis.
But you don't have to bear this debilitating pain.
Today, MCU for chronic neck pain is gaining traction. This technology aims at achieving total restoration of your neck musculature, offering long-term pain relief.
What is MCU for Chronic Neck Pain Relief?
Most traditional techniques for treating neck pain only provide temporary relief. On the other hand, MCU not only offers long-term pain relief but also increases your cervical strength and range of motion to restore full neck function.
The MCU is considered the most comprehensive neck evaluation and rehabilitation system in the world. It provides a thorough and factual evaluation of the cervical spine and neck muscles. Then, it prescribes the most suitable neck-strengthening exercises to help resolve the underlying cause of the problem.
Unlike massages, spinal decompression, and acupuncture, MCU offers a more restorative approach by strengthening your neck muscles in various directions. With adequate strength in your neck muscles, you'll be able to support your head's weight without aggravating the symptoms of your condition.
Why Consider MCU for Your Chronic Neck Pain?
Many clinical studies have shown a high success rate of MCU for chronic neck pain. According to one scientific study, MCU was able to increase the overall neck isometric strength by over 50%. It also demonstrated that neck strength training with MCU could be an effective way to decrease neck injury risk.
Chronic Neck Pain Relief in North Palm Beach
Active Health offers the MCU in North Palm Beach for comprehensive neck assessment and rehabilitation for patients suffering from neck injuries, whiplash, and other cervical spine issues. This advanced technology is effective in treating neck pain because it aims at restoring and improving your neck movements and strength.
For effective neck pain relief, call us at (561) 842-2273 to schedule an appointment at our North Palm Beach Office.

Posted In: Chiropractic Multiple Cervical Unit Neck Pain